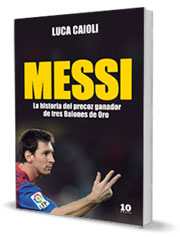 Messi, by Luca Caioli: "Worth reading because many predict he will turn out to be a sensation at this year's World Cup."
THE INDEPENDENT (UK)
---
"Italian sports writer Luca Caioli writes about his origins, his incredible journey and the unfolding genius of the 2009 Fifa Player of the Year"
HINDUSTAN TIMES (INDIA)
---
"As far as Lionel Messi is concerned, a star is born not made. This is even more poignant after reading  Luca Caioli's essay on the Barcelona and Argentina's  famous son titled Messi: The Inside Story Of The Boy Who Became A Legend.
The story is refreshingly different and many notable names in world of soccer spoke glowingly about Messi but the tenor that ran all through was the unmistaken humility of the lad despite all the success he has packed in recent years."
THE NATIONAL LIFE (NIGERIA)
---
"In his book, aptly titled Messi, Luca Caioli, who is also the author of another self-titled biography, the bestselling Torres, draws on numerous exclusive testimonies to tell Messi's story."
THE SOWETAN (SOUTH AFRICA)
---
"Lionel Messi could have been an Italian. The world's current No 1 player can trace his roots back to the peninsula, on his father's side the trail leads back to the town of Porto Recanati on the Marche coast. He was even born in the Garibaldi hospital in Rosario – named after Giuseppe, hero of il Risorgimento.
Perhaps that is why author Luca Caioli, an acclaimed writer for La Repubblica, La Gazzetta dello Sport and now Il Corriere della Sera's Spanish correspondent, was able to carve out such an exhaustive account of the young genius – it is as if he is trawling back through a relative's family album. Not so much a biography of the Argentine Messiah, more of a Homeric voyage from the dusty back streets of Rosario, Argentina, to a final chapter face-to-face with the 23-year-old star in the bowels of Barcelona's Nou Camp."
www.football-italia.net
---
"Luca Caioli, con un estilo  de reportero curtido, de entrevistador sagaz y de periodista que  conoce los intríngulis del fútbol, traza un fresco magnifico  en varios registros: la sociología, la historia política de Argentina, el juego sucio de los despachos y la burocracia asesina. Y por fin la explosión planetaria en el Barcelona de Messi un niño bajito que creció un poco más a base de inyecciones."
EL MUNDO (SPAIN)
---
"Messi, escrit per Luca Caioli, és un recull de la vida del jugador, des del moment de néixer fins a dia d'avui. Caioli recopila un seguit d'entrevistes a persones properes al futbolista. Amb elles descobrim aspectes íntims del jugador, així com algunes anècdotes personals."
www.Nosaltresllegim.cat
---
"Luca Caioli es un periodista italiano que cubre el fútbol español y que relata con amenidad y rigor las diferentes etapas –algunas muy difíciles, como su tratamiento hormonal para mejorar la talla– recorridas por Lionel Messi para convertirse en la extraordinaria figura del fútbol mundial que hoy es."
PERFIL (ARGENTINA)
---
Lionel Messi, der Weltfußballer des Jahres 2009, ist an einen guten Biografen geraten. Luca Caioli erzählt in seinem Buch «Messi» die ersten 23 Jahre im Leben des vielleicht besten Fußballers der Gegenwart. Caioli berichtet präzise, ja manchmal fast nüchtern
BADISCHE ZEITUNG (GERMANY)
---
"No livro «Messi, el Nen que no Podia Créixer» (inédito no Brasil), o jornalista italiano Luca Caioli relata a sensação, naquela equipe argentina, de que Messi dava pouco valor a rituais internos."
FOLHA DE S.PAULO (BRAZIL)
---
"O jornalista italiano Luca Caioli conta na biografia Messi, o Miúdo Que Não Podia Crescer a história da viagemmeteórica do filho de Jorge Messi e Celia Cucciltiri até ao topo do futebol."
PÚBLICO (PORTUGAL)
---
"Luca Caioli's 2009 portrait of Fernando Torres was probably the best book that has been published so far about Liverpool's current number nine. Whilst reading his book about Fernando Torres,it was continually obvious that Caioli had undertaken intensive research about the Spanish star, and the winning formula is largely repeated in his new portrait of Lionel Messi. An impressive range of people have been brought together to give their perspective on the 2009 FIFA Player of the Year and European Footballer of the Year."
www.FCBARCELONAWEB.CO.UK
---
Radio Montecarlo – Luca Caioli, autore del libro Messi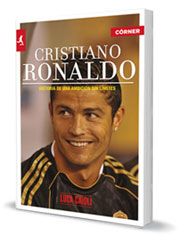 [ytp_video source=»9yIkYar1Jps»]
Telecinco · España – El gran Debate
---
[ytp_video source=»kg7w9flSWfs»]
Sábado · Portugal – Luca Caioli revela os segredos de Ronaldo
---
Por João Fernandes Silva, Carlos Matias y José Rui Rodrigues
Um bom campeonato da Europa pode ajudar Ronaldo a vencer a Bola de Ouro. Quem o diz é Luca Caioli. O jornalista que já escreveu sobre a vida de Messi, lançou hoje a biografia do craque português intitulada «A Perfeição é o Limite«.
RTP · Portugal – Jornalista italiano lança biografia de Cristiano Ronaldo
---
[ytp_video source=»xcMyZHDSJu0″]
Periodista Digital · España – Luca Caioli presenta su biografía sobre el crack portugués
---
Luca Caioli presenta en Al Primer Toque su libro sobre Ronaldo, donde habla de su vida, su actitud, sus ambiciones… «Ronaldo quiere ganar títulos».
Onda Cero · España – Luca Caioli escribe sobre Ronaldo: Él quiere ser el protagonista, pero necesita cariño
---
El escritor y periodista deportivo, Luca Caioli, nos ha presentado su último libro, Historia de una ambición sin límites, centrado en la estrella del Real Madrid, Cristiano Ronaldo. Caioli refleja en el libro la vida del jugador blanco, desde sus primeros pasos en la isla de Madeira, en el seno de una familia modesta de barrio obrero, hasta su salto a España.
Según ha explicado el escritor, antes de escribir el libro partía de una imagen negativa de Ronaldo por sus declaraciones en la prensa, pero tras indagar en su vida ha descubierto que es un «luchador nato» y ha destacado que representa como nadie «la capacidad de esfuerzo, el trabajo diario y el sacrificio constante».
Asuntos Propios, RNE · España – Luca Caioli retrata a Cristiano Ronaldo en su último libro
---
Por Josep Pedrerol
Luca Caioli revela en exclusiva para Punto Pelota, la cara más desconocida de Cristiano Ronaldo. El escritor italiano cuenta la dura infancia que vivió el crack luso, dejando atrás a su familia y amigos.
Punto Pelota · España – Duros inicios en Portugal
---
---